Purchase MakeMKV
MakeMKV contains both freeware and shareware functionality. You may use MakeMKV to convert or stream DVD and AVCHD discs for free, as much as you want. Converting or streaming Blu-ray discs is shareware functionality. You can use shareware functionality for free during 30-days trial period. If you like MakeMKV and you want to use it after your 30-days trial version expires, you need to purchase a registration key.
Registration key is valid for all MakeMKV versions on all platforms. There is no expiration time or any subscriptions.
Due to some technical issues, one cannot purchase MakeMKV for a moment. You have to use it for free :)
Please use the current beta key to unlock all features:
T-oDpQwQnTwMvNEFulk0bRciM7SWtVkY9ODCy8g8q1oHjUwZWkX0bkAPNZmCaKVNoWZv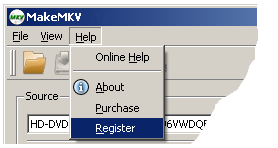 Please use "Register" form "Help" menu to enter the key into program.